The dinosaur sensory box was a huge success! Noah LOVED it! When Berkeley woke up from her nap he went on and on telling her about how he found dinosaur eggs! It was great! 🙂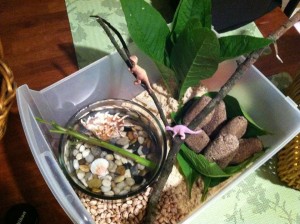 SO glad I did this! My box included:
a clear, plastic container
sand, pebbles, and beans for different dino turf textures
a glass bowl with water to represent a lake
twigs to add a foresty feel
leaves to make a dinosaur nest
a plant to make it look a little exotic
dino eggs (recipe in previous post)
lots of baby dinosaurs
Noah dove right in after I had him do some dinosaur worksheets!